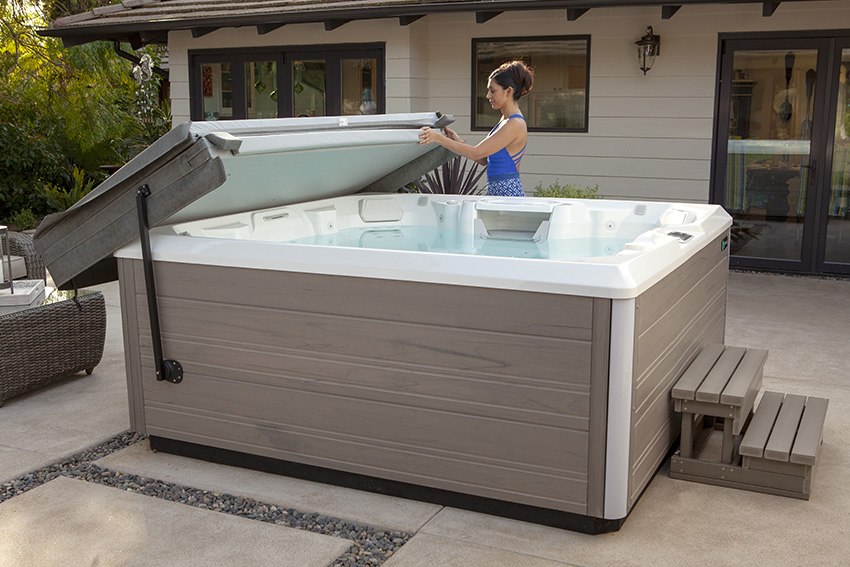 On the most basic level, hot tub cover lifters make covering and uncovering your spa incredibly simple: no heavy lifting, and no lugging your cover from storage to use. Without an easy way to remove your hot tub cover, you may find yourself soaking less often. For that reason, it's important to get an efficient cover lifter that makes opening and closing your hot tub easy for anyone—even people with limited mobility.
HOT TUB COVER LIFTER OPTIONS
With four high-quality hot tub cover lifters to choose from, you'll find the perfect one to protect and complement your home spa.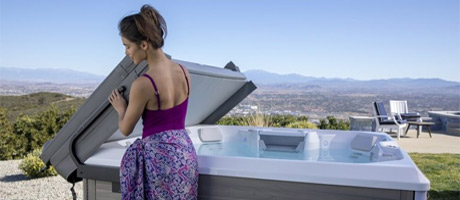 COVERCRADLE® COVER LIFTER
Opening your spa is easy with the CoverCradle cover lifter. Featuring dual pneumatic gas shocks and ultra-smooth gliding action, the CoverCradle fits snugly on your spa. The largest of the cover lifter options here, the CoverCradle requires 24" back clearance and 3" side clearance.*
COVERCRADLE II COVER LIFTER
The second generation of the innovative CoverCradle, the CoverCradle II features a single pneumatic gas spring, which makes it very easy to lift. Like the original CoverCradle, it requires 24" back clearance and 3" side clearance.*
UPRITE® COVER LIFTER
The UpRite cover lifter is ideal for limited clearance applications, such as if your hot tub is on a small patio or deck, or under a gazebo. This system allows the cover to fold up behind the spa bar top, requiring just 7" of back clearance and 3" of side clearance.* Not only does the UpRite fit into tighter spaces, it also creates a convenient sight barrier when open, so you can enjoy privacy as you soak in your home spa.
LIFT 'N GLIDE® COVER LIFTER
The Lift 'n Glide cover lifter uses a gliding action to help you easily remove your spa cover. Requiring only 14" of back clearance and 3" of side clearance*, the Lift 'n Glide is a great cover lifter option for hot tubs located in tighter spaces.